"I am the vine; you are the branches." proclaims Jesus Christ in John 15:5. He expects us to bear much fruit, but we can only do so if we remain "in him", along with the other branches. He warns us that if we are detached from the vine, then we wither and are cast away. Those who fail to bear fruit are cut off by the Father.
Is your life producing the fruit that comes from Jesus? He says, "Apart from me you can do nothing."
This Byzantine coin from about 1000 A.D. shows Jesus on one side, holding a Bible. The other side has a cross, representing Jesus, out of which grows the branches of the vine.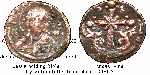 [SB 1889]


Home, B.C., Birth of Jesus, Bible coins, Other Gospel topics, Book of Acts, Nero, Jewish Revolt, Revelation, Official Christianity, Byzantine, Contrast, Details