After Constantine declared everyone to be a "Christian" it seemed right to depict the Emperor displaying symbols of the new faith. The labarum was a pole with a Christogram:

XP, (first letters in Greek word for Christ). The words around the edge mean "Restoration of the good times," suggesting the improvement of the nation whose Emperor is following the Christian faith..

On this coin Emperor Constantius II, 324-361 A.D., stands on the galley of a ship holding a phoenix (an ancient symbol of renewal and/or immortality) and a labarum. The ship galley in this period was viewed as a "Ship of State"; a ship also represented the Christian Church. The ship and Emperor are being propelled and guided by the kneeling person at the right (having wings?--an angel?). So this scene could represent the Emperor and nation being directed by Christianity.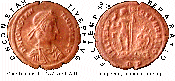 [SR 4002]
On this coin Emperor Constantius II stands besides two captives and holds a labarum.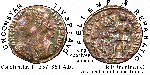 [SR 4004]


Home, B.C., Birth of Jesus, Bible coins, Other Gospel topics, Book of Acts, Nero, Jewish Revolt, Revelation, Official Christianity, Byzantine, Contrast, Details