The Council of Nicaea met in 325 A.D., under a mandate from Emperor Constantine the Great, to define which were the correct Christian doctrines. The bishops found that the doctrine of the Trinity was in accord with the Bible. They also found that the Arian heresy (that Jesus is not God; a teaching revived by the cults: Jehovah's Witnesses, the Way International, Unitarian/Universalist...) was contrary to Scripture.

From such meetings the three great confessions of the Church--the Apostles, Nicene, Athanasian Creeds--were written to concisely express the basic teachings of the Christian faith.

This coin was minted in the city of Nicaea (in northwestern Turkey).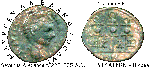 [SGI 3287]

[SGI 3671V]


Home, B.C., Birth of Jesus, Bible coins, Other Gospel topics, Book of Acts, Nero, Jewish Revolt, Revelation, Official Christianity, Byzantine, Contrast, Details