"Then one of the Twelve, the man called Judas Iscariot, went to the chief priests and said, 'What are you prepared to give me if I hand him over to you?' They paid him 30 pieces of silver, and from that moment he looked for an opportunity to betray him." (Matthew 26: 14-16)

Judas was probably paid 30 shekels, one of which may have been of the type in this picture.

This Syrian tetradrachm (shekel) was issued by the Romans in 46-40 B.C. copying the design issued under Philip Philadelphos, 93-83 B.C., but on a smaller coin. On the back side Zeus is holding Nike.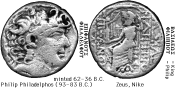 [SG 7214V]


Home, B.C., Birth of Jesus, Bible coins, Other Gospel topics, Book of Acts, Nero, Jewish Revolt, Revelation, Official Christianity, Byzantine, Contrast, Details