The reign of Antiochus (IV) Epiphanes was anticipated in Daniel 8 and described in 1 Maccabees 1 to 6 and in 2 Maccabees 2 to 14. Antiochus is the first ruler to ever call himself God on a coin. The Greek words on the sides, from right to left, mean "King Antiochus ... God made visible" (or ... the appearance of God).
Antiochus was a model for the Antichrist. During his reign, 175-163 B.C., he defeated Ptolemy VI of Egypt and then proceeded to force the Jews to abandon their faith or else be killed. He profaned the Temple by sacrificing a pig on the altar and setting up an idol of Zeus. That stopped the sacrifices. The Maccabees lead a successful revolt lasting 3 years. The Jewish festival of Hanukkah celebrates the cleansing of the Temple.
Antiochus was not God as he claims on this coin. He died of a painful intestinal disease. Unlike Jesus, he did not come back to life.
Whom are you following--a dead "god" or the living God?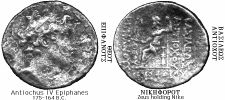 [SG 6978],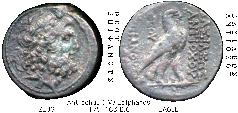 [SG 6985]
Back, Next
or general topics:
Home, B.C., Birth of Jesus, Bible coins, Other Gospel topics, Book of Acts, Nero, Jewish Revolt, Revelation, Official Christianity, Byzantine, Contrast, Details